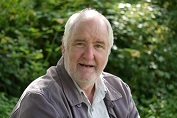 Mick Csáky
Documentary film writer, producer and director
Born Michael Sándor Csáky on 31 August 1945 to Hungarian father Alexander Csáky and English mother Mary (born Mary Baker).
Two brothers: John and Adrian.
Married Jeanne Du Pasquier in 1972.
Three children: Leo, Corinna and Tim.
1951-63 Bedales School.
1963-65 Farnham School of Art (Foundation Course)
1965-68 Saint Martin's School of Art (BA Graphic Design)
1968-71 Royal College of Art (MA Film & Television)
Entered the film and television industry in 1971 by joining the production team making ITV's arts and entertainment magazine programme Aquarius as a researcher. One year later he went freelance as an independent writer, producer and director working for the BBC and ITV before setting up his first independent production company Pictures That Move.
To date he has produced and directed more than 100 documentary films for the cinema, television and DVD, in addition to executive producing a further 600 films, many of them international co-productions.
The majority of his output has been in the form of documentary singles and landmark series, made through his independent film and television production company Antelope; mostly in the areas of human interest stories, biography, history, science, politics, economics, religion, music and arts; with assorted performance and magazine programmes and a limited number of drama productions for the cinema.
His film productions have won numerous national and international awards (including both US National and International Emmy awards), and have appeared on all of the main UK terrestrial and digital television channels and in most countries of the world. In 1998 he was elected a Fellow of the Royal Television Society "In recognition of an outstanding contribution to the furtherance of television".
Mobile: + 44 (0)7768 274 363
Email:
THE GODMOTHER OF ROCK & ROLL: Sister Rosetta Tharpe

One-hour documentary about the highly influential African-American gospel singer Sister Rosetta Tharpe. The film was originally commissioned by BBC4 for transmission in the UK during 2011, 2012 and 2015. A 52-minute version was edited for the PBS strand American Masters for transmission in the USA during 2013, 2014 and 2015. A Director's Cut version was created in 2014 - see below.

AFRICA LIVE: The Roll Back Malaria Concert

120-minute concert documentary to raise awareness of malaria in Africa. The film triggered a $20 billion commitment from the World Bank, World Health Organisation, United Nations Foundation, UNICEF and the Gates Foundation to combat malaria in Africa.
2005 / BBC4 / Arte France

" AFRICA LIVE: Roll Back Malaria Concert held in 2005 connected a global audience to create an international rallying cry for the fight against malaria. The concert and the film came at a pivotal time: the resulting groundswell of awareness helped support significant funding increases and contributed to a still-strong global movement that continues to make progress in saving lives from malaria."

Kathy Calvin - President and CEO of the United Nations Foundation.

SHIRIN EBADI: Divided By The Prize

30-minute profile of 2003 Nobel Peace Prize winner Shirin Ebadi.
2004 / BBC4

GEIKO GIRL

52-minute documentary about a geisha girl working within the Gion district of Kyoto.
2000 / BBC2 / Kyoto Broadcasting

MOZART IN TURKEY

90-minute opera movie featuring Mozart's Die Entführung aus dem Serail, staged and filmed within the Topkapi Palace, Istanbul.
1999 / BBC2

PLÁCIDO DOMINGO: A Musical Life

90-minute profile
1995 / ITV / PBS American Masters

THE MIDAS TOUCH

6x1-hour global economics series written & presented by Anthony Sampson.
1990 / BBC2 / TV Asahi

KILLING THE DRAGON

52-minute documentary about a remarkable cure for heroin addiction in Thailand.
1988 / ITV

CARAVANS OF GOLD

52-minute episode from the 8 x 1-hour series AFRICA: A Voyage of Discovery
1983 / MBTV / Channel 4

HOW DOES IT FEEL?

42-minute exploration of the senses featuring David Hockey, Michael Tippett, Joseph Beuys, RD Laing, etc. A Pictures That Move Production.
1977 / Arts Council of England
THE JAZZ AMBASSADORS

The remarkable story of how the US State Department sent African-American musicians Louis Armstrong, Dizzy Gillespie and Duke Ellington to Africa, India and even behind the Iron Curtain to win over hearts and minds during the Cold War.
Producer Mick Csáky, Writer & Director Hugo Berkeley
Antelope/Normal Life Pictures/WNET production for PBS, BBC and ARTÉ
2018 / 90 minutes

HIMALAYA: L'Enfance d'un Chef

104-minute feature film, shot in the Tibetan language, directed by Eric Valli. Academy Award nominated for Best Foreign Film, winner of 2 César awards.
Co-produced by Antelope with Galatée Films. 2000.

A CRY FROM THE GRAVE

104-minute account of the massacre of Srebrenica directed by Leslie Woodhead for Antelope.
1999 / BBC2/13.WNET/NPS/NPR

444 DAYS

104-minute account of the US hostage crisis in Iran of 1979-81, directed by Leslie Woodhead for Antelope.
1997 / BBC2

HIROSHIMA: The Decision to Drop the Bomb

75-minute film directed by Jeremy Bennett for Antelope.
1995 / BBC / TV Asahi / The History Channel / TV Novosti / Télé Images

CHAIRMAN MAO: The Last Emperor

60-minute biography of Mao Zedong, directed by Jeremy Bennett for Antelope.
1993 / BBC2 / A&E / France 3

CHASING A RAINBOW

78-minute biography of Josephine Baker, directed by Christopher Ralling for Csáky Limited. International Emmy award winner.
1985 / Channel 4

AFRICA: A Voyage of Discovery

8 x 1-hour series written & presented by Basil Davidson.
1983 / MBTV / Channel 4

"Broad-sweep history, rich in texture.A stunning piece of work"

John Corry of New York Times, 26 March 1986
ONE WORLD MEDIA SHOW: creating global conversations

As Festival Director, he conceived and staged this two-day event at University College London during 8th & 9th November 2013. The festival combined panel discussions, lectures, films, a radio show and a comedy act - all highlighting the media's power to increase cultural understanding and contribute to global justice.

SOAS Radio show featuring Sorious Samura, Jane Bussmann and Mick Csáky:

Mick Csáky interview with Haifaa Al-Mansour, director of the movie WADJDA

https://vimeo.com/77297269
Alongside his film and television work, Mick Csáky has undertaken extensive multi-media and multi-screen audiovisual work for museums (Natural History and Science museums, etc), exhibitions (British Genius and UK Expo pavilions, etc) and art galleries (Hayward Gallery, Musée des Arts Décoratif in Paris, etc).
His photographs have appeared in numerous exhibitions, magazines and newspapers; along with books that have accompanied several of his television series.
Several books published, mainly to accompany television and film projects:
HIMALAYA: L'enfance d'un Chef

By Eric Valle & Debra Kellner
Published by Éditions de la Martinière- 1999

HOW TO GET INTO TV: The inside guide to a career in television

By Mick Csáky
Published by Boxtree / Macmillan - 1997

ROYAL COLLECTION

By Christopher Lloyd
Published by Sinclair Stevenson / Channel 4 / NHK - 1992

THE ROYAL GARDENS

By Roy Strong
Published by Conran Octopus / BBC Books - 1992

THE MIDAS TOUCH

By Anthony Sampson
Published by Hodder & Stoughton / BBC Books / Dutton / Asahi - 1990

OIL

Edited by Adrian Hamilton
Published by Michael Joseph / Rainbird / Channel 4 - 1986

The Story of AFRICA

By Basil Davidson
Published by Mitchell Beazley / Channel 4 - 1984

WHAT A PICTURE!

By John Hedgecoe
Published by Mitchell Beazley / Channel 4 - 1984

HOW DOES IT FEEL? Exploring the world of your senses

Edited by Mick Csáky to accompany his 60-minute film with the same title.
Published by Thames & Hudson (UK), Random House / Harmony (USA), and Forum (Sweden) - 1977

LIVING POETS

Edited by Michael Morpurgo. Photographs by Mick Csáky
Published by John Murray - 1974
AMREF (African Medical & Research Foundation)

In 2014 he made a 3-minute charity appeal for a social/health project in Tanzania:
https://vimeo.com/107685396

One World Media

During 2007 -2013 he was a trustee of One World Media:
www.oneworldmedia.org.uk
In 2009 he made a 3-minute video for the One World Media Awards:
https://vimeo.com/53931136

Mary Rose Museum

During 2005-2010 he was a trustee of the Mary Rose Museum:
www.maryrose.org

Film & television industry groups

Over the years he has served on the Councils of the Association of Independent Producers (AIP), Independent Programme Producers Association (IPPA), Producers Alliance for Cinema and Television (PACT) and the Royal Television Society (RTS). During the 1990s he was Chairman of the Film Production Committee of the Arts Council of England.
Pictures That Move

1972-81 as Chief Executive.

Viscom

1975-81 as an Executive Director.

Mitchell Beazley Television

1981-83 as Chief Executive.

Csáky Limited

1983-90 as Chief Executive.

Antelope

1988-90 as Executive Director. From 1990 to the present day as Chief Executive & Creative Director.
To see a list of Mick's productions from 1971 to 2015 click here